Organic only! Hold the hormones please!!
It has long been argued that if there is one "perfect" food in nature, it may be milk! Standard 1% milk provides an almost "perfect" balance of high-quality protein, complex carbs, just the right amount of "good" fat as well as lots of calcium and vitamin D! We offer 100% USDA-certified organic milk to ensure you're getting just what nature intended!
We place a major emphasis on carrying "REAL" food like nuts, low-fat jerky, yogurt, organic milk and fruit juice whenever possible!

Lean Machines researches and taste-tests all of our products to ensure you get the most delicious and nutritious snacks on earth!

We carry as many organic products as possible while still keeping prices low. Most of our products contain organic ingredients.
Great lunch ideas for around $5! (tax included)
Nature Valley Sweet & Salty Nut Bar, IZZE Sparkling Pomegranate Juice, Jalapeno Smokehouse Almonds
Here's a radical idea...overload on FLAVOR instead of CALORIES! This well-balanced lunch provides enough natural flavor to satisfy any sweet-tooth and packs an added zing from the delicious smoky jalapeno almonds!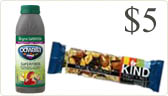 Odwalla Superfood, KIND Fruit and Nut Bar
Sweet and simple (and delicious!). These are two of my favorite products!. Odwalla Superfood is not only delicious, but it drinks like a meal and it's packed with nutrients (way too many to list). Add one of the most amazing snack bars ever created and you've got a very nutritious and filling lunch or breakfast!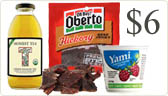 Yami Raspberry Yogurt, Oh Boy! Oberto Beef Jerky, Honest Tea
Low-fat jerky is a great source of high-quality protein with a "complete" amino-acid profile (and it's locally made and owned!) Yami Yogurt is absolutely the best tasting yogurt on the market, and it provides a great balanced of protein, fats, carbs and nutrients like calcium. Honest Tea is lightly sweet, delicious and provides a small caffeine boost to help get you through the rest of your day!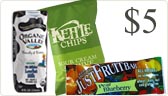 Gorge Delight Pear Blueberry Fruit Bar, Organic 1% Milk, Tim's Cascade Jalapeno Chips
Tim's Cascade Jalapeno chips are not only a great tasting, locally made product, but they're lower in calories than most "healthy" potato chips! Organic 1% milk and a Gorge Delight fruit bar made from all eastern washington fruit are perfect companions! The Pear Blueberry bar is my favorite product out of all we carry!
Silk Soy Milk, Clif Crunchy Peanut Butter Bar, Yami Yogurt
We offer several selections of Clif and Luna bars, my personal favorite is the Crunchy Peanut Butter Clif bar. Wash it down with a nice cold Silk Soy Milk and you've got a pretty good lunch or daytime snack! Add the best yogurt on the market (Yami) for a some extra protein and calcium!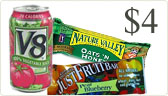 Campbell's V8 Vegetable Juice, Gorge Delight Pear Blueberry Bar, Nature Valley Oats and Honey Bar
Fruits, vegetables and whole grains; what could be healthier than that? Campbell's V8 is a great way to get your daily serving of vegetables. Our all-time favorite Gorge Delight bars are 100% fruit and have been called a "grown-up" fruit roll-up. Round out your lunch with whole grains from a Nature Valley bar!
* Prices subject to change